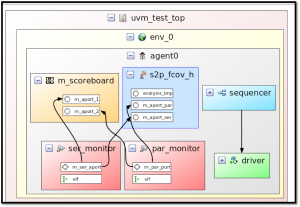 If you are working on UVM, you would know the pains of creating the framework by now.
Takes fairly long time to create the framework
10+ files, several base classes etc.
Manual creation is hard & error prone
Misses key elements like:

Scoreboard
Functional Coverage
Assertions etc.

Scripts to run on each tool

Hard to remember all options to each tool
This is where our DVCreate-UVM fits. On a push-of-a-button, we generate a well structured, compiling and even RUNNING UVM environment. It saves several hours for every engineer in the team!
Contact us via support@verifworks.com for more.
[dl url="http://verifworks.com/download/dvc/VW_DVC_UVM_2016.03.tar.gz" title="Download DVC-UVM" desc="" type="" align=""]